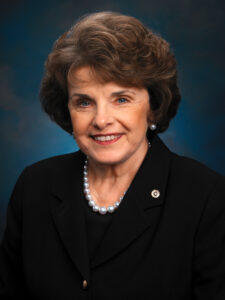 Senator Dianne Feinstein (D-CA) has died of natural causes at the age of 90.
Feinstein was a "trailblazer" for women in politics. She was the first woman to serve as mayor of San Francisco, California; to represent California in the U.S. Senate; to chair the Senate Rules Committee; to chair the Senate Intelligence Committee; and to preside over a U.S. presidential inauguration. At the time of her death, she was the oldest member and senior Democratic member of the U.S. Congress. She currently holds records for longest-tenured female senator and longest-tenured senator from California.
After graduating in 1955 from Stanford University with a bachelor's degree in history, Feinstein participated in the Coro Fellows Program in Public Affairs. California Governor Pat Brown (D) appointed her to the California Women's Parole Board in 1960. She was elected to the San Francisco Board of Supervisors in 1969 and made unsuccessful runs for Mayor of San Francisco in 1971 and 1975. In 1976, the "New World Liberation Front" terrorist group made an unsuccessful attempt to assassinate her by planting a bomb at her home; it was not armed correctly and failed to explode.
Feinstein—then serving as president of the San Francisco Board of Supervisors—became acting mayor after the assassination of San Francisco Mayor George Moscone (D) and San Francisco Supervisor Harvey Milk (D-5th) in 1978. She was soon appointed by the board to serve out the remainder of Moscone's term. She was reelected mayor in 1979, survived a recall attempt in 1982, and was reelected again in 1983. She did not seek reelection in 1987.
In 1984, after former Vice President Walter Mondale (D) had won the Democratic Party presidential nomination, Feinstein was considered a possible candidate for the vice presidency. Mondale ultimately chose Representative Geraldine Ferraro (D-NY 9th), who became the first woman to run on a major-party national ticket.
Feinstein unsuccessfully ran for Governor of California in 1990, losing to then-Senator Pete Wilson (R-CA). Wilson resigned from the Senate in early 1991 to take office as governor, and Feinstein ran in a 1992 special election to complete Wilson's term. Feinstein defeated Senator John Seymour (R-CA), who was serving on a temporary appointment by Wilson, with about 54% of the vote. She was reelected to the Senate in 1994, 2000, 2006, 2012, and 2018.
Earlier in her career Feinstein was generally considered a moderate Democrat. More recently, she has shifted leftward (along with her party) but sometimes drew the ire of "progressive" Democrats for her support for Israel, more "hawkish" views on foreign policy, and willingness to work with Republicans. One of her most well-known legislative accomplishments was the so-called "Federal Assault Weapons Ban," an unconstitutional infringement of self-defense rights that was in effect from 1994 to 2004. Later studies found that the law had no effect on violent crime rates.
After years of declining health, growing questions about her fitness for office, and significant health-related absences, Feinstein announced in February of this year that she would not seek reelection in 2024. Some Democratic members of Congress and "progressive" organizations had called on her to resign.
Under California law, Senate vacancies are filled by gubernatorial nomination until the next regularly scheduled statewide general election, at which time the seat is filled for the remainder of the term through a special election. California Governor Gavin Newsom (D) will likely make a temporary appointment in the coming days or weeks. The special election is expected to be held in November 2024 (it is likely too late to make the 2023 ballot). Feinstein's seat was already up for election in 2024, so the California ballot next year is expected to include both a special election to fill the remaining two months of Feinstein's term and a general election to fill the seat for a new six-year term beginning in January 2025.