Automobiles
Honcho 2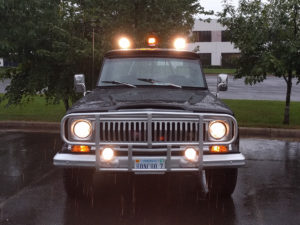 I own a classic Jeep J-10 pickup, which has undergone a major rebuild and restoration. It has been built to be be a reliable workhorse, not a show-car. After it finishes its shakedown period and final restoration steps, it'll be cruising the highways, back-roads, and trails around Virginia.
Model: 1977 Jeep J-10 Pickup (SJ)
Trim: Model 25 401-4V
Color: Classic black
Purchased: Used in 2016; restored in 2018
Mechanical:
Manufacture:
Ratings:

Estimated at 390 hp, 420 lb-ft torque
10 MPG city, 12 MPG highway (EPA estimates for 1984 model)
Curb weight: 3,800 lbs (9.7 lbs/hp)

Customization:
The Mazda
The new daily driver is a fun little Mazda sedan in white, which brings us 'up to date' on modern safety and connectivity features without sacrificing driving feel or style. It's practical and fun all at the same time and is proving itself to be a versatile and reliable member of the family.
Model: 2021 Mazda 3 Sedan (BP)
Trim: Preferred AWD
Color: Snowflake white pearl mica
Purchased: New in 2021
Mechanical:
Manufacture:
Ratings:

Rated at 186 hp, 186 lb-ft torque
25 MPG city, 33 MPG highway (EPA estimates)
Curb weight: 3,268 lbs (17.6 lbs/hp)

Customization:
The Big Mini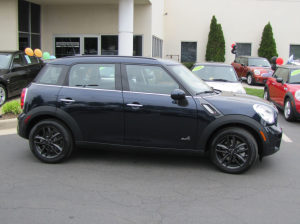 Our aging family/secondary car is the moderately versatile (and very fun to drive) Mini Countryman. It's a nice little car and, unlike most of the rest of the Mini product line, it has all-wheel drive and enough space for four human beings.
Model: 2012 Mini Countryman (R60)
Trim: Cooper S All4
Color: Cosmic blue metallic
Purchased: New in 2012
Mechanical:
Manufacture:
Ratings:

Rated at 181 hp, 192 lb-ft torque
23 MPG city, 30 MPG highway (EPA estimates)
Curb weight: 3,208 lbs (17.7 lbs/hp)

Customization:

Utility
Performance
Electronic and radio equipment
Software tweaks

Improved daytime running lights
Improved automatic moonroof and window functions
Double-flash hazard lights
Improved speedometer accuracy
Bicycles
2008 Trek 7100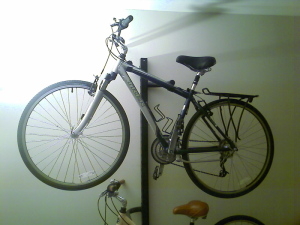 This 'hybrid' is designed for road and paved trail but is more upright and comfortable than a traditional road bike. At a glance it looks basically like a mountain bike, but it has narrower/smoother road-style 700c tires and a more road-oriented geometry.
Model: 2008 Trek 7100 Hybrid
Frame: Alpha White Aluminum, 17.5″
Color: Blue and Silver
Tires: Bontrager Select Invert 700x35c
Drivetrain:

SRAM 3.0 Comp 7 speed Shifters
Shimano C102 front dérailleur
SRAM ESP 3.0 rear dérailleur
SR Suntour NEX-208 48/38/28 crank
Sun Race 13-34 cassette

Assembly: Spokes, Etc. in Ashburn, Virginia
2007 Schwinn Mesa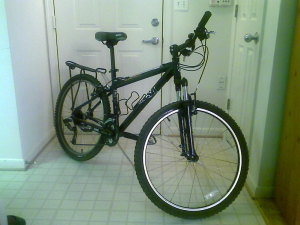 My Trek hybrid has served me very, very well, but it's not designed for unpaved trails like the C&O Canal trail, Cross County Trail, or other unpaved paths in the D.C. metropolitan area. I decided, so I would have access to those trails, to pick up a decent, inexpensive mountain bike as a secondary bike for rougher riding.
Model:

2007 Schwinn Mesa

Frame: Schwinn Aluminum, Medium
Color: Navy Blue
Tires: Kenda Klaw XT, 26″ x 2.1″
Drivetrain:

SRAM SX-4 Dual Trigger control shifters
SRAM 3.0 front dérailleur
SRAM SX-4 rear dérailleur
TruVativ X-Flow 42/32/22T crank
Shimano CS-HG30, 11/32T, 8-speed cassette

Assembly: Performance Bicycle in Fairfax, Virginia
Vehicle History
Automobiles
Daily Drivers
Family/Secondary

The Flyer
The Tribute
The Oldsmobile
Bicycles
Cheap big-box store bicycles.